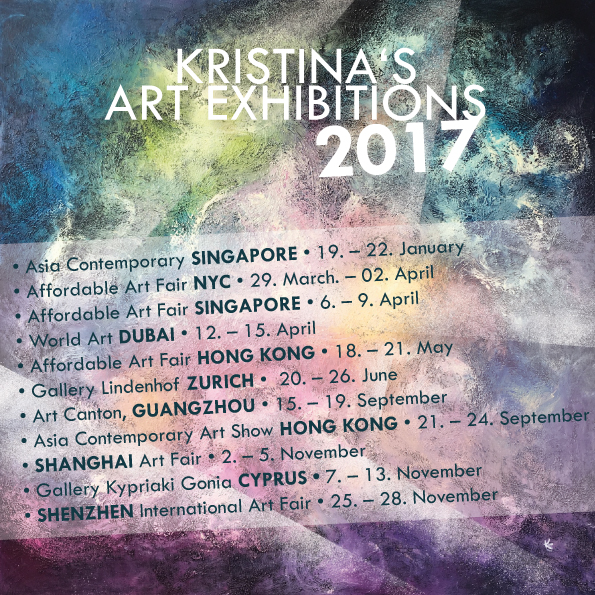 SOLO EXHIBITION AT DEUTSCHE BANK BERLIN 2016
1. May – 30. July 2016 Kristina has a solo exhibition with 28 art works at DEUTSCHE BANK BERLIN, Branch Otto-Suhr-Allee. Out of 35 000 artists in Berlin, 7 000 of them are painters, Kristina was invited. Deutsche Bank shows two artists per year.
View photos
here.

                                                              •
LUXURY & SPA HELSTON HOTEL, GUANGZHOU 2016
From January until December 2016 Kristina has a solo exhibition at the luxury and 
spa Helston Hotel 5*, Guangzhou. Her paintings are on display at the Art Hall. If  you are interested i
n any of the paintings, please, contact the artist personally or ask at the hotel reception.
www.helston-hotel.com
                                                              •
UNESCO 2016
UNESCO accepted donation of a painting from Kristina. The painting is hanging in the library of the "Institute For Lifelong Learning" in Hamburg/Germany. In the same location there is a solo exhibition, 22. October 2015 – 10. March 2016. View photos here.
                                                              •
GUANGZHOU / CHINA 2016
                                                              •
ARTIST IN RESIDENCE ON CYPRUS 2016
May 2016 Kristina will create art on Cyprus in
KYPRIAKI GONIA GALLERY, Larnaca,
invited by the gallerist, who is also collector of her art.
www.gallerykypriakigonia.com.com